The twelfth teacher has called in sick tomorrow, and you are out of substitutes. Now, you're deciding whether to combine classrooms or ask an administrator to step in as a teacher for the day. Suddenly, you question whether you have enough staff to open tomorrow, with any plans for student learning or interventions suddenly pushed to the side as you go into an emergency response mode.
The Impact of COVID-19 on Education
Whether teacher absences are due to an influx in COVID-19 cases, unfilled positions from the beginning of the year, an overly stressed staff utilizing a much-needed mental health day, or all of the above, a sudden staff shortage can be an incredibly challenging hurdle for school districts to handle.
In the age of COVID-19, these shortages can come with hard decisions. In a recent surge of COVID-19 cases in Colorado, district officials were forced to transition to remote learning for five days when staff absences surpassed 20%. These difficult decisions can disrupt all aspects of a school's operations, including fidelity to MTSS processes.
The Opportunity of MTSS to Support Educators
However, MTSS is more relevant in times of educational crises than ever before. MTSS (Multi-Tier System of Supports) is a systematic approach to education that accounts for the needs of the whole student, including support for academic and social-emotional elements of a student's learning. Better yet, MTSS is not just limited to the students it serves; this system also delivers benefits to a school and its staff—benefits that can help alleviate the strain during times of stress.
When faced with times of crisis, it can be easy to push our MTSS practice off to the side as we go into crisis mitigation mode, but staff shortages do not need to spell an end to our MTSS process. Instead, this provides the perfect opportunity to evaluate our MTSS practice and system to ensure that we have implemented a process that can survive a "worse case scenario" dilemma.
Let's take a look at some strategies to continue MTSS with a reduced staff.
Make School Culture a Priority
School culture is one of those fun terms we like to throw around when we consider new initiatives, but how much are we actually investing in ensuring that our school culture fosters a positive and productive environment for our teachers and students?
According to the Colorado Department of Education, a positive school culture fosters safety, promotes a positive academic, disciplinary and physical environment, and encourages trusting and caring relationships between adults and students. These benefits lead to higher rates of attendance (for students and staff), higher graduation rates, and overall higher academic achievement.
COVID-19 Affects Teachers' Mental Health Too
While absences due to COVID-19 may be unavoidable, the past few years of teaching during a pandemic have led to educators being burned out and needing a break. Educators have not been spared from the same trauma experienced by students, whether that trauma came from the loss of family members, personal illness, or the enduring stress of an ever-changing environment.
Many staff turn towards their mental health days for a breather and a break from the pressure. While this is a great practice at the individual level, it can strain the school system when large numbers of staff need a break at the same time.
An increase in staff absences due to stress is a clear sign that we need to evaluate the systems that may contribute to these mental health crises. This ensures we provide a safe and comfortable environment where our staff members feel valued and appreciated.
MTSS Leads to a Stronger School Culture
MTSS has been proven to lead to a stronger school culture, where educators are trained and confident in delivering the support and interventions necessary to guide their students to success. Because MTSS accounts for the whole student, schools are prepared to implement proactive interventions and strategies that foster positive behavior, class engagement, better attendance, and increased self-worth. When a student body feels empowered by their education, teachers know that they make a difference.
But a shift in school culture does not occur simply by wishing it into being. Here are some strategies to encourage a more positive school culture to benefit your students and your staff:
1. Invest in a Robust PBIS (Positive Behavior Incentive Program) at a School-Wide Level
PBIS (Positive Behavior Incentive Program) is a preventative framework for supporting the development of positive and prosocial behaviors in schools and classrooms. PBIS includes using practices, tools, and strategies that work to reward or reinforce positive behaviors. The model runs counter to using exclusionary discipline practices in schools, such as suspensions, expulsions, detentions, and time-outs.
PBIS also involves a set of classroom management practices that are consistently implemented to proactively prevent problem behaviors and promote behaviors that best serve the classroom as a whole.
Like an MTSS framework, PBIS involves using evidence-based interventions and practices, tiered levels of support, and the use of data collection and analysis to inform decision-making.
The three tiers of MTSS allow for a layered approach of increased support for students depending on need. Examples of evidence-based PBIS tools and approaches across tier levels can be found here.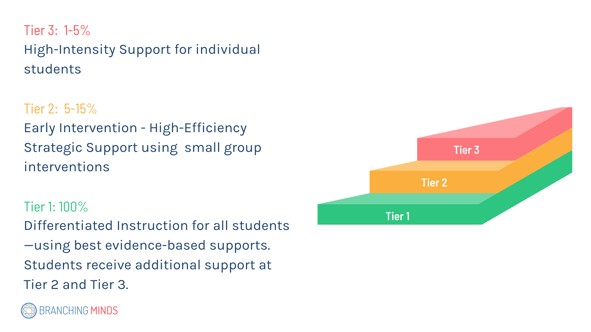 A PBIS system needs to incorporate every stakeholder (students, staff, leaders, and community members) to be successful in encouraging a positive school climate. Similar to how we implement MTSS, this initiative needs to be implemented with a system-level approach, which integrates this program fully into the daily operations of a school.
2. Incorporate Social-Emotional Learning (SEL) for Students
A robust and systematic SEL program targeting students' social and emotional needs can lead to a more productive and positive school environment for all stakeholders. When used in coordination with a positive behavior framework, SEL programs can increase productive conversations and relationships, creating a school environment that is comfortable sharing the burden during stressful times.
SEL provides students with the tools they need to understand, process, and communicate their needs, and provides training for teachers to accommodate and adapt to traumatic experiences—such as a global pandemic.
Before jumping in and starting an SEL program, schools need to be thoughtful in their approach to instituting SEL at a school level. SEL assessments, such as the DESSA, can help schools assess the SEL needs of their students and select appropriate research-based SEL interventions and support. SEL should also become a common concept that is implemented daily at all levels of instruction, including reinforcing SEL skills across content areas.
The Branching Minds' support library offers a selection of research-backed SEL programs that can be used at a class or school level to support SEL needs.
3. Incorporate SEL for Teachers
Social-Emotional Learning is not just for students. While many SEL programs provide opportunities for educators to learn about SEL strategies, schools should also consider directly supporting the SEL needs of the staff to maintain a positive work culture during times of reduced staff and increased stress.
It would be a gross understatement to say that the pandemic has been challenging for even our most dedicated and experienced educators. COVID brought the world to its knees, and educators were not spared from that impact.
Before the pandemic, teaching was already considered to be one of the most stressful occupations in the United States. Since March 2020, that stress has only increased exponentially. Teachers have risen to the challenge, implementing remote learning and hybrid instructional models and balancing the needs of their students and their own families for nearly two years.
Operating at such a high level of stress can lead to burn-out, mental health crises, and feelings of hopelessness. This can lead to an increase in staff absences, poor staff retention, and unfilled instructional positions.
Just as we consider the trauma our students have experienced, we also need to acknowledge that our staff has faced the same trauma, but have continuously placed their students first.
Teacher SEL and well-being can be naturally integrated into an MTSS framework. Some strategies that schools can implement today to support teacher SEL include:
Provide Ample Professional Development Opportunities

Teachers are empowered when they have the skills to succeed in the classroom, regardless of outside circumstances.
By providing professional development opportunities for topics related to teaching during a pandemic (such as accelerated learning

, SEL, data-tracking, and

technology in the classroom

), educators remain confident in delivering excellent instruction.




Implement a Staff SEL Program

Similar to the student SEL programs we discussed above, schools can invest in

staff-specific SEL programs

that teach educators mindful practices to build self-awareness, reduce stress, and recognize anxiety. The

Cultivating Awareness and Resilience in Education (CARE)

program creates a structured model for incorporating strategies to support staff SEL every day.
Beyond a formal program, schools can also invest in exercise classes, yoga courses, or paid counseling to provide staff members with support and an outlet for their mental and physical wellbeing.
Support a Healthy Work-Life Balance

Being an educator can consume our lives. We take papers home to grade, respond to emails late at night, and spend our holiday breaks fervently planning the next semester. While our culture may idolize this level of passion and commitment, this is a recipe for fast burnout. Teachers need time to step away from their classrooms and focus on themselves and/or their families, and these boundaries need to be honored by s

chool leadership

as well.
When we demand our teachers to be available at all hours, we're demanding that they give up part of their life they do not owe to the school or to students. By respecting the boundary of work time and family time, school leaders set the tone for creating a healthy and maintainable work ethic. That urgent email can wait until the morning to hit the inbox. When teachers feel like their boundaries are respected, then they are more willing to bring their best selves forward to school each day.
➡️ Related resource: Supporting Teacher SEL and Well-Being within an MTSS Framework
Be Ready to Pivot
Pivot. I actually detest this word. It has become a hallmark term to reflect the constantly changing environment of education during the COVID-19 pandemic. A nice, quick word to capture an incredibly difficult feat. Pivot to remote learning. Pivot to accelerated learning. Pivot instructional practices. Before long, we start sounding like a bad, 80's pilates video. Just maybe without the neon leggings…
However, being ready to pivot is one of the best strategies schools can implement to continue MTSS when faced with sudden staff shortages. The good news is that we should all be pretty good at this by now since we have been doing it at an extreme rate for over two years (or maybe I'm a determined optimist).
By having a clear, actionable plan in place to respond to a sudden influx in staff absences, school leaders can ensure that their MTSS process remains uninterrupted. While the specifics of these plans will look different depending on situations and school structures, the following considerations can help pave the way for a seamless transition.
1. Maintain Clear Communication
Communication Is a Foundation of an Effective System of MTSS
Communication should be continuously applied during strenuous times. By clearly articulating the roles and responsibilities of all staff members as it relates to MTSS, educators understand their role and the roles of their colleagues.
When faced with sudden staff absences, teachers can continue to implement their roles and adjust to fill in the gaps of missing staff. Within any action plan, school leaders should articulate a "second line of defense" ready to step up to fill in a vacancy.
➡️ Related resource: Communication Planning for MTSS
When staff shortages start exceeding over 20%, some roles within a school may have to become more fluid, and staff may need flexibility with the roles they take on in the interim.
Communication is key to each staff member understanding their roles and responsibilities in a plan built on continuing MTSS in the face of a staff shortage. This avoids a sense of sudden panic or stress when the staff is asked to transition to a different role or fill in for a staff absence to maintain MTSS fidelity.
A strong understanding of the flow of MTSS and the roles of all stakeholders can help create guidelines for formulating these "emergency" roles. Check out our MTSS flowchart as a starting point.
2. Have a Clear Plan
Whether considering a short transition to remote learning or combining classrooms, schools can avoid interruptions to their MTSS process by planning for interruptions. While that may sound a bit redundant, it's similar to how we operate daily as teachers.
Best practices for instruction dictate that we always have a backup to our lesson in case something goes awry—whether faulty technology or an unforeseen gap in student understanding. In a similar thread, schools need to account for how they will respond to various scenarios before these scenarios arise.
While predicting a global pandemic was not in anyone's mind a few years ago, we've now experienced a variety of instructional models—remote, hybrid, and in-person. Pulling resources from all models, we can begin to structure and plan how we can continue to deliver interventions and support in the event of an interruption to traditional instruction.
The good news is that we all went through the chaos of figuring this out in 2020. Taking time to put together an MTSS handbook that accounts for variations in delivery and transition periods can provide clear guidance on which systems need to be adjusted, continued, and reassessed during periods of short-staffing.
With an MTSS tracking software, such as Branching Minds, staff can continue to virtually collaborate with other staff, communicate with families, and monitor intervention plans. Our support library contains a wealth of remote learning supports specifically designed to assist with a nontraditional approach to instruction. By building a plan to continue MTSS during a sudden loss of staff and an adjustment to normal scheduling, we can ensure the continuity of MTSS in a variety of settings.
3. Prioritize Collaboration
Even before a pandemic, collaboration was the gateway to effective instruction. Our departments and professional learning communities are the brains behind our entire operation. During my first year of teaching, I remember often hearing that "no teacher is an island." One of our greatest resources as teachers is the knowledgeable and skilled professionals that we call our colleagues.
The collaborative communities of our schools build in natural barriers to instructional upheavals. An ideal Professional Learning Community (PLC) operating under a proper system of MTSS is a group of collaborative individuals who consistently share data and communicate instructional pacing.
When a school is faced with a sudden surplus in staff absences, collaborative communities are foundational in continuing the practice of MTSS. These "brains" already know how interventions were being delivered, the schedule of progress monitoring, and understanding the specifics of the core instruction.
➡️ Related resource: How to Plan MTSS Professional Learning Throughout the Year
By prioritizing the usage of collaborative groups as a habit of daily practice, schools can ensure that they maintain multiple hubs of leadership and knowledge to continue MTSS, even if a staff member is absent for an extended period of time.
To help foster this collaborative mindset, Branching Minds has compiled a helpful MTSS meeting guide to help streamline MTSS meetings, so educators can maximize their time together and optimize their data-driven decision-making models.
Grade with Grace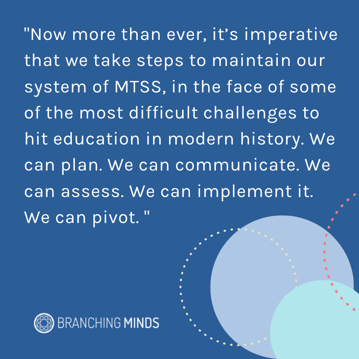 "Unprecedented times." That was another phrase I promised myself that I wouldn't throw in here. But similar to pivot, it found its way into our daily education vernacular.
We are facing unprecedented times. That's a truth that has been drilled into us with every twist and turn of the past years, and it's a truth that will continue to stay with us for the foreseeable future. MTSS is the answer to so many problems we are currently facing in education: absences, student disengagement, achievement gaps, failure rates, mental health crises, and so much more.
Now more than ever, it's imperative that we take steps to maintain our system of MTSS, in the face of some of the most difficult challenges to hit education in modern history. We can plan. We can communicate. We can assess. We can implement it. We can pivot.
But through it all, it's important to remember a lesson many of us have heard regarding our students—"Grade with grace."
This is the mindset I leave you with. While it's important to try our hardest to maintain fidelity to MTSS in these challenging times, it's also important to remember to extend some grace to ourselves and our colleagues.
We don't lower the bar, but we do everything in our power to meet it, with the understanding that some things may just not be within your power. So take time to breathe, assess your next steps, and remember, we're all out there giving it our all—and that's all we have to give.
Above all, in this time of stress, always find something to celebrate. Celebrate small victories with your students, celebrate a day of no (or limited) chaos with your staff, or simply celebrate the opportunity of another chance of trying again tomorrow.
Citations:
https://www.edweek.org/leadership/staff-shortages-are-bringing-schools-to-the-breaking-point/2022/01?utm_source=nl&utm_medium=eml&utm_campaign=eu&M=64271787&U=1541427&UUID=6734733204726973908db2846c43fc3d
https://www.garrisoninstitute.org/initiatives/programs/cultivating-awareness-and-resilience-in-education/
https://www.cde.state.co.us/schoolclimate
Let us help you build the right team!
Branching Minds offers a variety of professional learning opportunities for states, districts, and schools to ensure instructional leaders, specialists, coaches, and teachers are able to implement RTI/MTSS as well as the BRM platform with fidelity and maximizes educators' efforts to accelerate learning for all students.