Beyond the MTSS Buy-in & Mobilization Guide
When someone considers preparing a wonderful Thanksgiving meal, they can't simply start cooking. They gather recipes, inventory their pantry, and create a timeline to tackle the multiple simultaneous efforts that will occur on preparation day. Furthermore, a novice cook will have a very different knowledge base than someone who has been cooking for their kids and grandkids for thirty years. We all come to such a project with a similar end goal; a lovely meal surrounded by happy stuffed friends and family. Much like cooking, schools come to Multi-Tiered Systems of Supports (MTSS) from all different places.
Nonetheless, no matter where districts are, they must accurately inventory their current practices and develop a game plan for improvement. As a continuum to the MTSS Buy-in and Mobilization Guide we recently released, we created this MTSS Mobilization Framework to help school and district leaders mobilize their teams around MTSS. Understanding where each school in a district is, where they need to be, and why change is imperative is critical for mobilizing around MTSS.
How To Use this Guide
We recommend that building MTSS Teams review this document together and evaluate where the school lies in each component. If you are just starting out, you may be working towards being "foundational," and that's great. Start in that row and work your way down the table. Some districts may be foundational in one component and fully operational in another. Once you have identified where you are, look vertically to consider the next steps and work together to develop some goals for the year and beyond.
Wherever you start, we have various resources to inform your practices and dig deeper into each component. It takes years to be fully operational in all components, so just like we do with students, take it one step at a time.
In the words of Ms. Julia Child, "The only stumbling block is fear of failure." From all of us at Branching Minds, happy "cooking."
---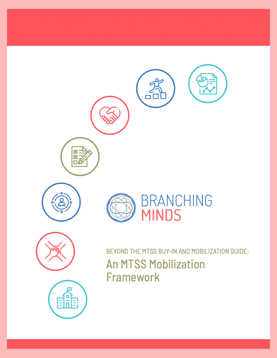 ---
Mobilize your MTSS practice. Let us help you build the right team!
Branching Minds offers a variety of professional learning opportunities for states, districts, and schools to ensure instructional leaders, specialists, coaches, and teachers are able to implement RTI/MTSS as well as the BRM platform with fidelity and maximize educators' efforts to accelerate learning for all students.
---