Branching Minds makes MTSS easy, efficient, and effective by bringing together all of the components of MTSS so teachers can collaboratively problem-solve and support all students' holistic needs. Our system-level solution helps schools improve students' outcomes across academics, behavior, and SEL equitably.
More effective problem-solving
The Branching Minds Behavior Insight Survey leverages the learning sciences to collect teachers' observations of students' executive functioning and social-emotional skills, differentiated by students' grade performance level.

Finding the Right Evidence-based Interventions & Accommodations for Each Learner
Hundreds of free, evidence-based behavior and SEL learning supports - including supports for attendance, relationship skills, responsible decision-making, self-awareness, self-management, and social awareness. The library includes supports sourced from CASEL, PBIS World, and Sanford Harmony, and can be customized for each school or district.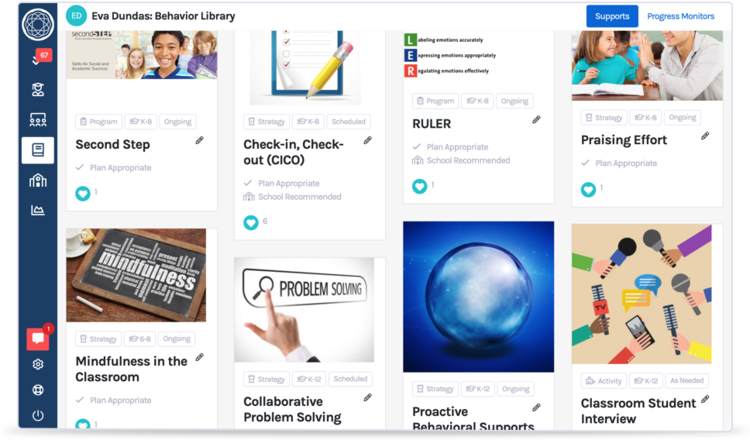 Creating Intervention Plans and Monitoring Daily & Weekly Progress in Behavior/SEL
Customizable behavior plans - for individual students and small groups - include evidence-based interventions, accommodations and progress monitoring. Use any type of behavior progress monitor that includes a score, rate, percent, or scale measure, such as Daily Behavior Report Cards or Check-In / Check-Out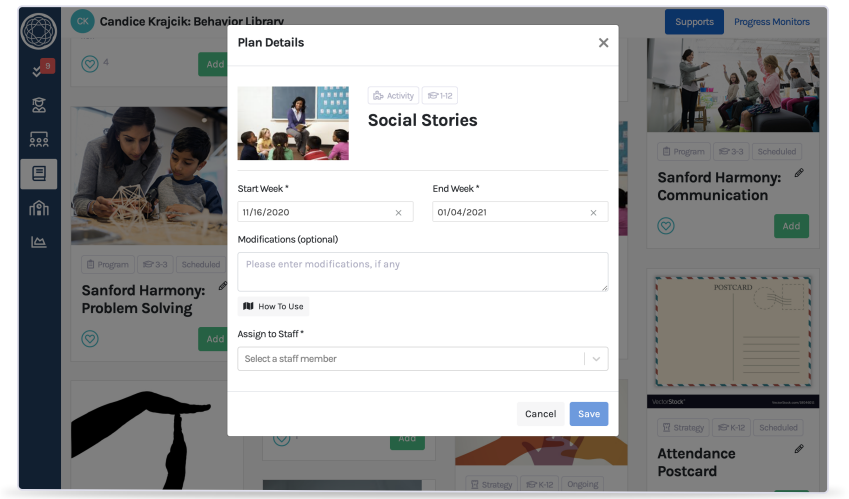 Logging & Monitoring Behavior Incidents
Log and monitor behavior incidents, such as bullying, disruption, physical aggression, and other issues. The behavior incidents are presented alongside intervention data and daily/weekly behavior progress monitoring - enabling teacher teams to quickly identify and address emerging issues with a student.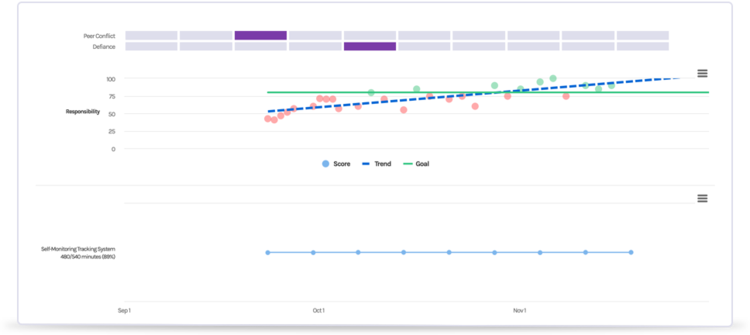 Pattern Matching Behavior Incidents Across Groups
Behavior incidents are also filterable and viewable across subgroups like school, grade, student, staff, incident, demographic subgroups and more. The presentation of this data enables school and district-level administrators to better identify patterns of behavior incidents and problem solve system-level needs.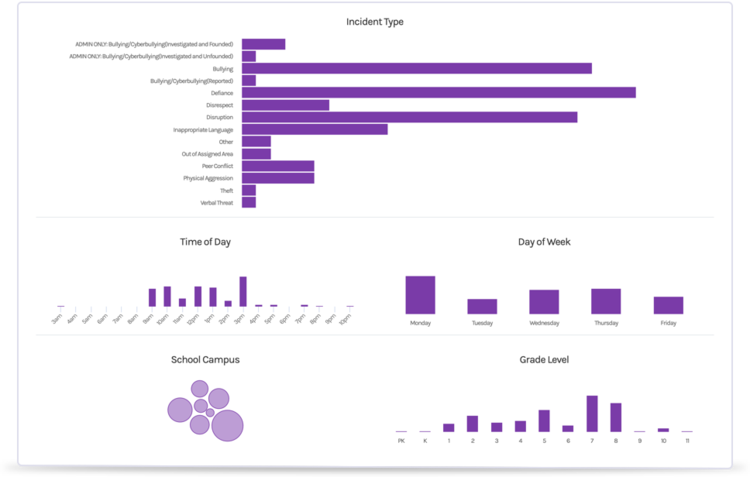 Assessing SEL Needs with the SECA
The SECA is a free, research-based, student-facing survey that measures self-reported social and emotional competencies of students in grades 5-12, and can be administered directly through Branching Minds.. The SECA assesses 8 social-emotional skills and provides an overall SEL global score. Questions are available in English and Spanish. Once completed, students' scores appear immediately on their Student Overview page. Educators can use that data to identify students who need support and find programs, strategies, and resources aligned to their specific SEL needs. For more information on the SECA, click here.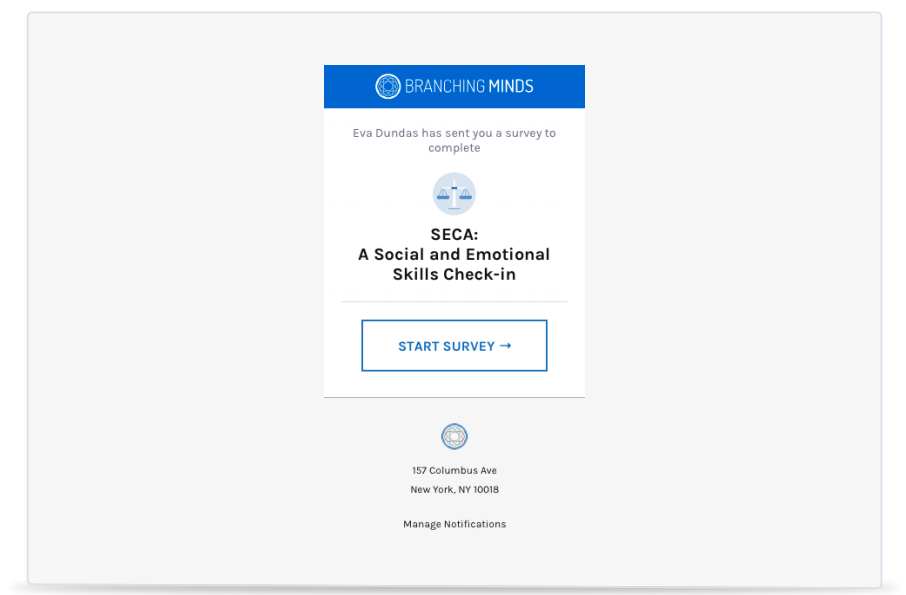 SECA assessment (40 questions)
Measures 8 social-emotional domains.
Self-awareness of strengths and weaknesses
Self-awareness of emotions
Self-management of emotions
Self-management of goals
Self-management of school work
Relationship skills
Social awareness
Responsible decision-making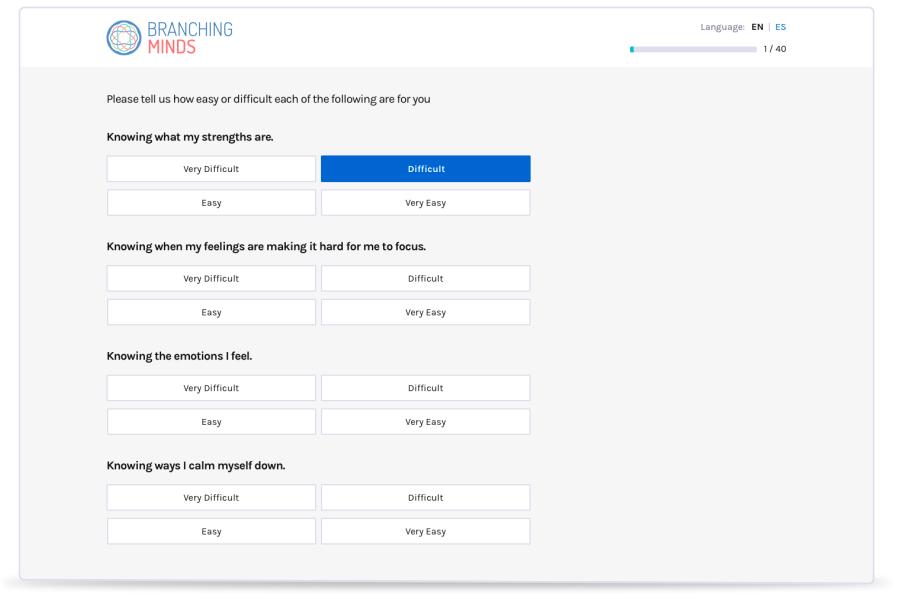 Leveraging SEL Screeners for Tiering
Branching Minds can ingest SEL screener data, or use SECA data, to determine tier placement for students based on school-determined performance cut scores. Educators can then review tier level reports which provide the percent and number of students in each tier broken down by school, grade, gender, race, ethnicity, English proficiency, and FRL status; as well as tier movement reports to understand if students are moving up or down in tier between two time periods.