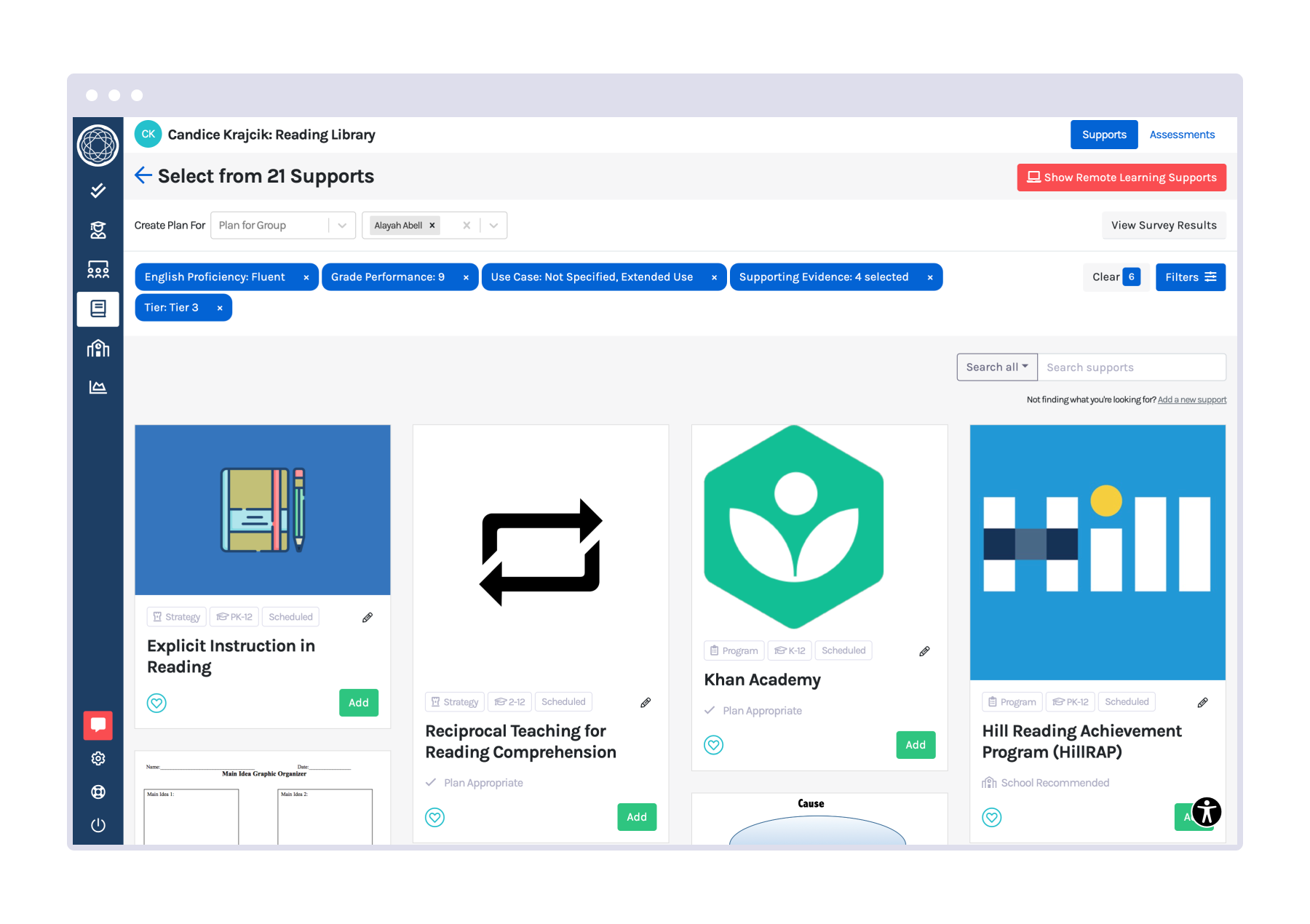 Find the Right Support Matched to Each Student's Needs
Understanding why a student is struggling is only helpful if teachers can then identify an intervention that has evidence for addressing the student's specific learning needs. The Branching Minds Support Library and recommendation algorithm help make this level of personalization easy for teachers.
EVIDENCE-BASED INTERVENTIONS AND ACCOMMODATIONS FOR READING, WRITING, MATH, BEHAVIOR, SEL & MORE
Our supports include hundreds of evidence-based intervention programs, so that if your school or district has purchased those resources they can be added to the student's intervention plan on Branching Minds, as well as nearly a thousand free evidence-based strategies, activities, and resources that can be added to a student's intervention plan. For each of these supports, BRM helps educators understand what the support is, why and for whom it should be used, how it should be delivered, and connects them to the supporting research and additional material. The availability of supports is completely customizable so you can add in any districted created resources and control which BRM supports are visible in the library.
Our learning science team has curated these resources from the most trusted and respected hubs of evidence-based supports, including the Florida Center for Reading Research, What Works Clearinghouse, Evidence for ESSA, Intervention Central, the IRIS Center from Vanderbilt University, Harmony SEL; and, each one has been reviewed and categorized based on the ESSA tiers of evidence guidelines. Supports have also been categorized by other factors including the BRM insight survey challenge areas, grade performance level, tier level of support, and English proficiency level so that our support recommendations are aligned with student's needs.
Efficiently Hone in on the Right Interventions — Saving Your Staff Time & Energy
Find the Right Evidence-Based Intervention — Without the Guesswork
The Support Library is curated to identify the best resources for each learner (or group of learners) based on the student's designated tier level, age, grade performance level, and English proficiency levels, as well as teacher inputs derived from Insights Surveys. It is also highly filterable so teachers can quickly find supports that match their instructional context or curricular needs, and customizable for each school or district.
"
No more searching for interventions. It's all right there!
"
Streamline the Creation of Effective Support Plans
Branching Minds guides teachers through the creation of goals, progress monitoring and intervention plans using best practices. Depending on the level of support students need, the topic area, and the resources available at each school, the BRM planning tool will scaffold the design of a SMART goal, as well as the cadence of any selected progress monitoring assessment, intervention, and accommodation. All of these plan elements are then assignable to one or multiple educators to enable them to stay on top of their work so their colleagues can stay informed of student support and progress in real-time.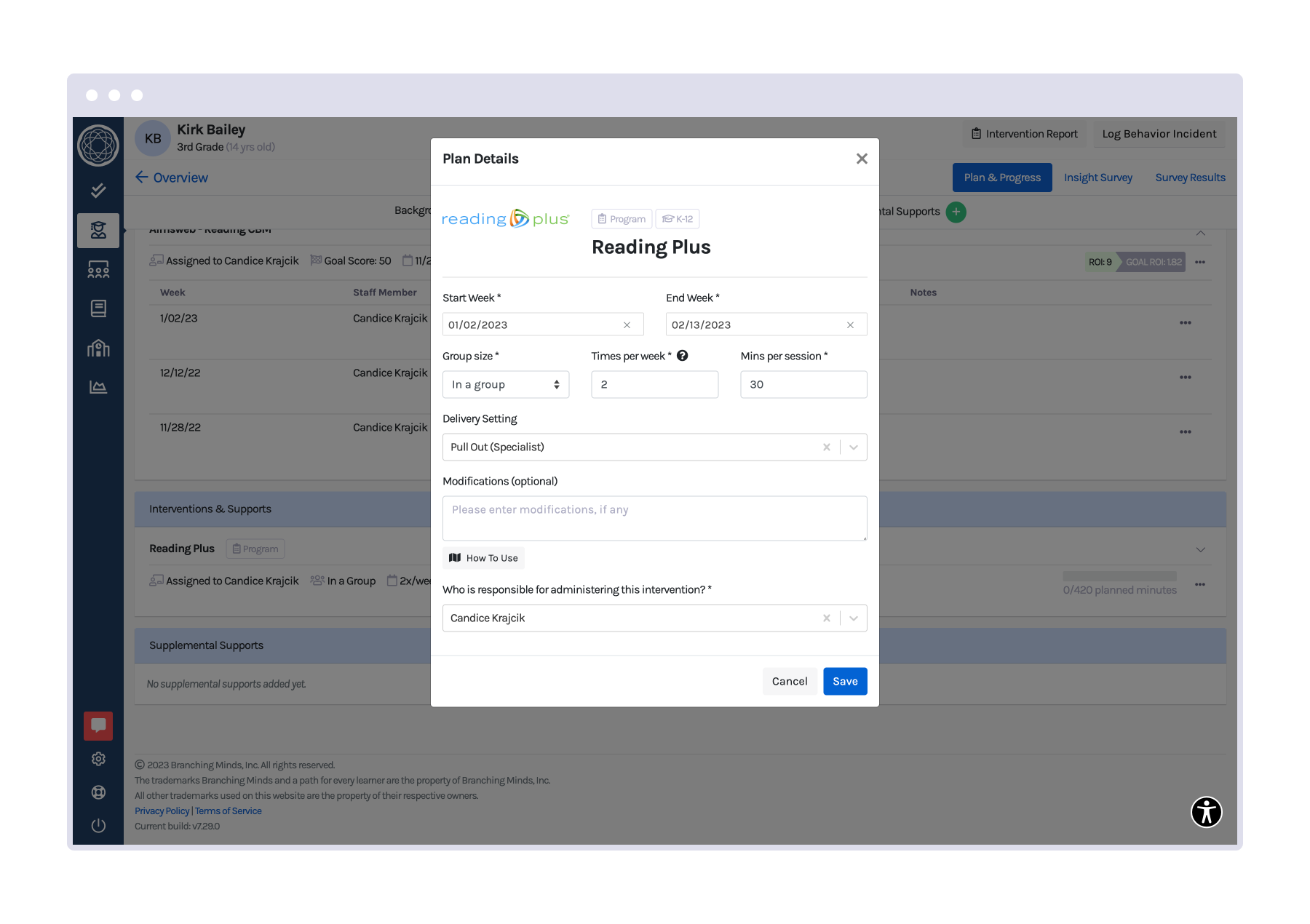 "
Intervention selection is easier with Branching Minds, because there is a "pre-curated" list of options to choose from. We know that the available options are evidence-based and actually available for my district, which streamlines the intervention process for teachers and leads to improved intervention quality.
"
Find the Best Evidence-Based Interventions for Each Learner
"
It's the most complete tool that a teacher could have!
"