Branching Minds (BRM) assists our Texas school and district partners in achieving their HB 1416 goals and requirements by:
★ Helping teachers and staff to quickly identify students needing supplemental instruction and accelerated learning committees based on STAAR data
★ Making it easy for educators to document decisions made by the Accelerated Learning Committee and create plans for students
★ Streamlining communication on ALC plans with all stakeholders, including families
★ Allowing teachers to quickly document intervention minutes for each student to ensure that they are meeting targets
★ Providing reports to track intervention minutes logged for students to ensure no students are missed or "slip through the cracks"
5 Benefits of Utilizing the BRM Platform to Achieve Your HB 1416 Goals
| | |
| --- | --- |
| STAAR data are available in the platform: | Teachers and staff can see a student's historical STAAR data to make the best data-based decisions for each individual student. |
| Help teachers and staff quickly identify students needing supplemental instruction and accelerated learning committees: | Branching Minds shows which students are in need of support from an Accelerated Learning Committee to plan supplemental instruction, based on STAAR results. |
| Educational plans established by the ALC can be documented and monitored with ease and efficiency: | Individual or group plans, including a SMART goal, a progress monitor, and an intervention or support, can be quickly and easily created within the platform. |
| Teachers can quickly document intervention minutes for each individual or group: | Teachers or staff tasked with working with an individual or a group will receive weekly reminders to check off intervention minutes and input progress monitoring data. |
| Intervention minutes report helps track the minutes that have been logged for students: | Branching Minds provides reports to track intervention minutes logged for students to ensure no students are missed or "slip through the cracks." |
While some districts have found some of these new requirements difficult to manage, Branching Minds helps make the process much easier for teachers and administrators, as illustrated in the chart above. Regardless of HB 1416, it is always a best practice to provide differentiated instruction and individualized support plans to all students identified as needing support at the end of the day.
The Accelerated Learning Report on Branching Minds
The Accelerated Learning Report on the Branching Minds platform allows admins & educators to view STAAR performance levels, ALC Meeting completion, and intervention minutes documented for each student to demonstrate compliance with Texas HB 1416.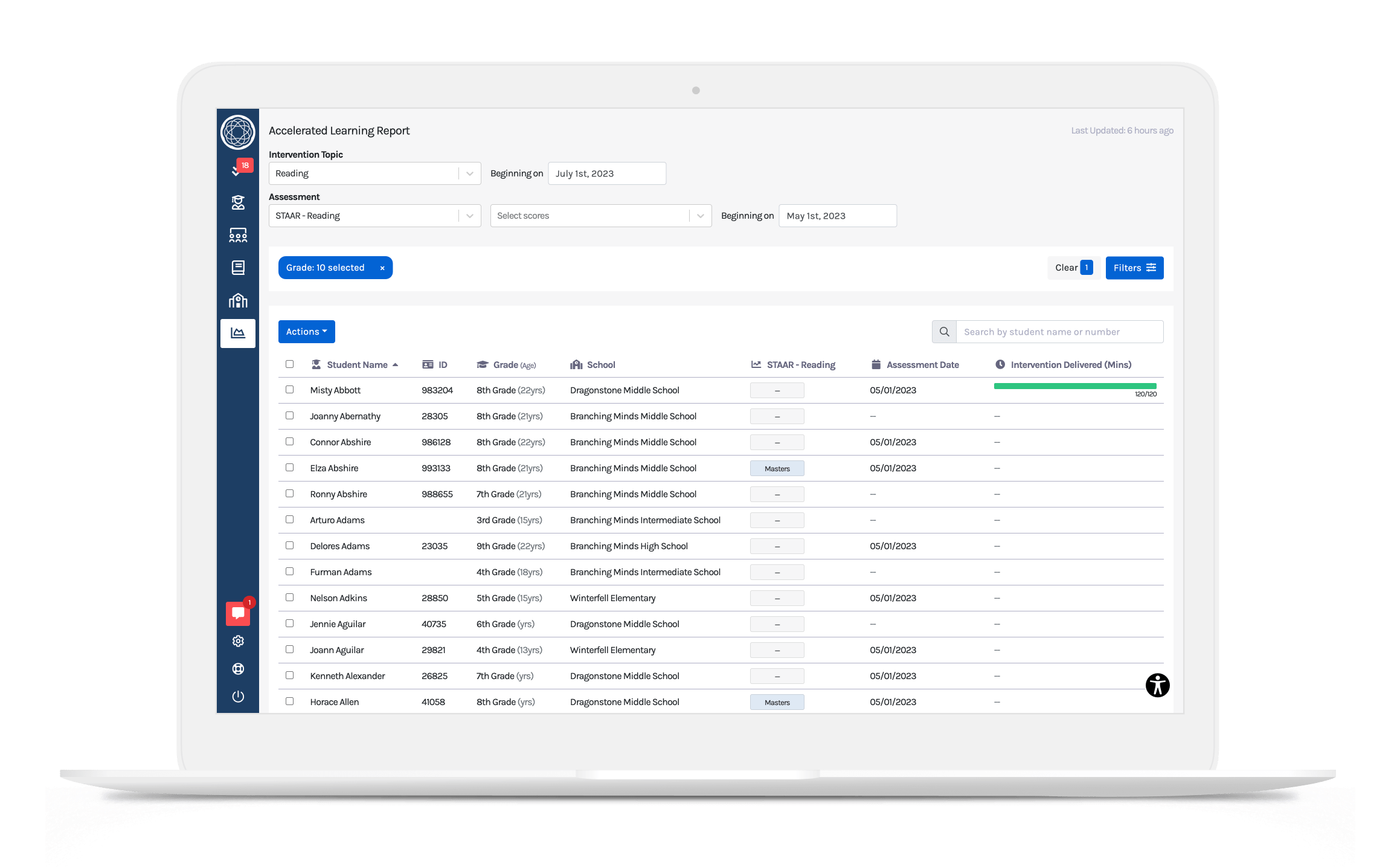 Empowering Educators and Improving Student Outcomes in Texas
Branching Minds is a mission-driven K-12 education company committed to empowering educators to effectively, efficiently, and equitably improve student outcomes, while saving teachers time and effort. The platform is currently supporting over 1.5M students in nearly every state across the country, including over 500,000 students in Texas. Importantly, the platform helps districts and charters in Texas meet the requirements of HB 1416.
The Branching Minds platform centralizes student assessment data and collective teacher insights to help teachers identify which students need support, with what, and why — and then scaffolds the design and implementation of those support plans leveraging evidence-based resources to increase effectiveness and technology to streamline teacher workload. By making this information actionable, Branching Minds helps ensure that students are receiving the evidence-based accelerated learning support they need to meet grade-level standards and achieve academic success without overwhelming an overburdened teaching staff.
In a survey conducted in 2022, 96% of educators using Branching Minds said that it saved them time and increased their effectiveness.
Branching Minds provides this support to districts by helping them effectively manage and implement Multi-Tiered System of Supports (MTSS), a nationally recognized evidence-based framework for effectively integrating supports and interventions to:
★ Improve student achievement
★ Target learning loss recovery
★ Monitor student progress
★ Improve teacher effectiveness and efficiency
MTSS is used across the state of Texas and in schools nationwide to provide well-designed instruction, closely monitor all students' progress, and provide accelerated learning support to students who are struggling.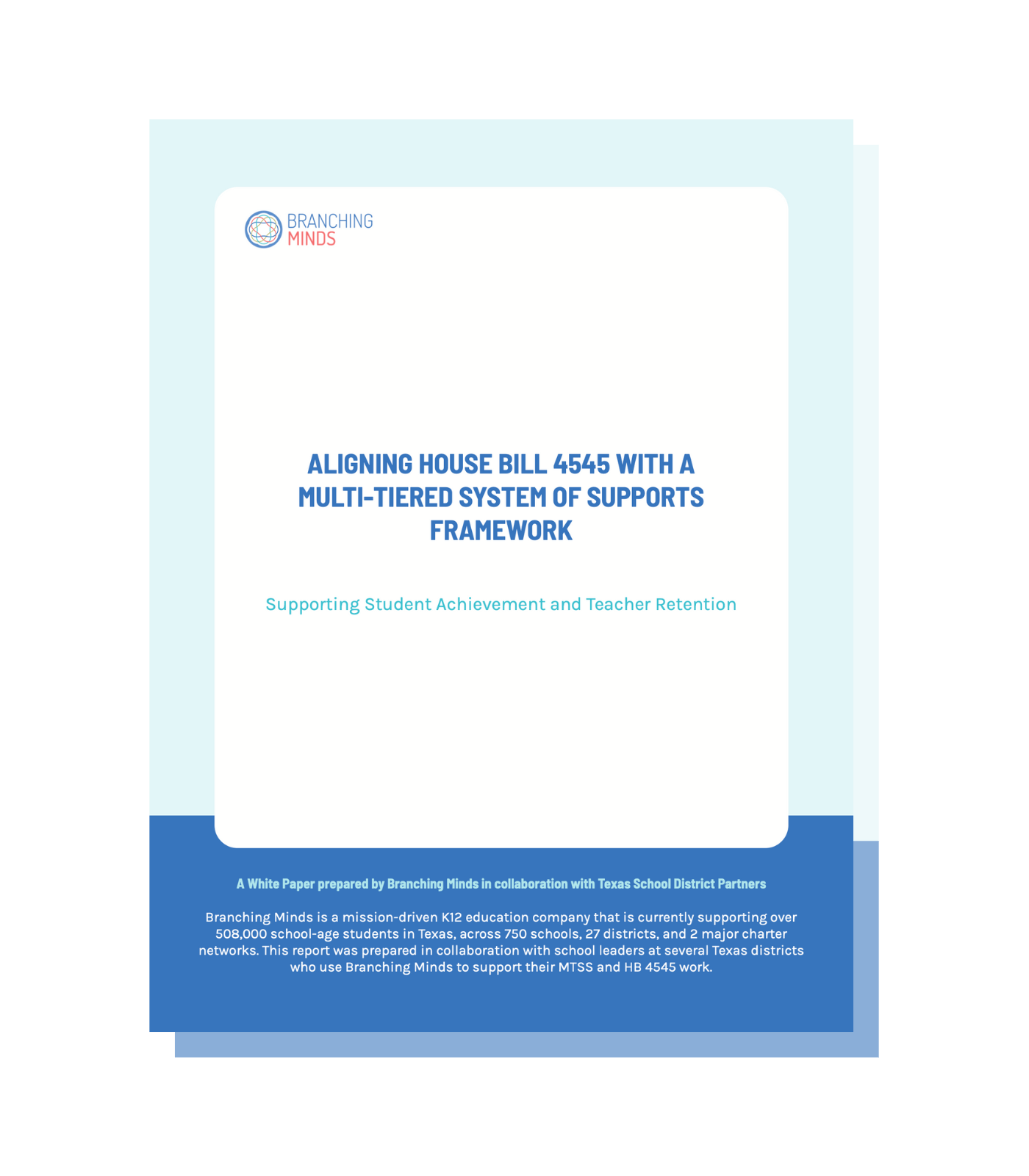 Want to learn more?
Check out our white paper: "Aligning House Bill 4545 With a Multi-Tiered System of Supports Framework"
Bryan ISD is a public school district located in Bryan, Texas. It serves 15,984 students (81% of students from minority backgrounds; 77% qualify for free or reduced-price lunch) and a total of 27 schools. The district began their partnership with Branching Minds in 2019. Bryan ISD has heavily used Branching Minds to document support plans for at-risk students and all students needing accelerated instruction according to a recent bill passed in Texas, HB 4545 (now HB 1416). District leaders at Bryan ISD have also worked with BRM as a thought partner to improve and release new features that can support the work of district and campus MTSS leaders.
Data collected from the NWEA MAP reading and math universal screening assessments show that students who scored in the lowest 25th percentile for reading and math at the beginning of the 2021-2022 school year had significant improvements in their performance at both the winter and spring benchmarks.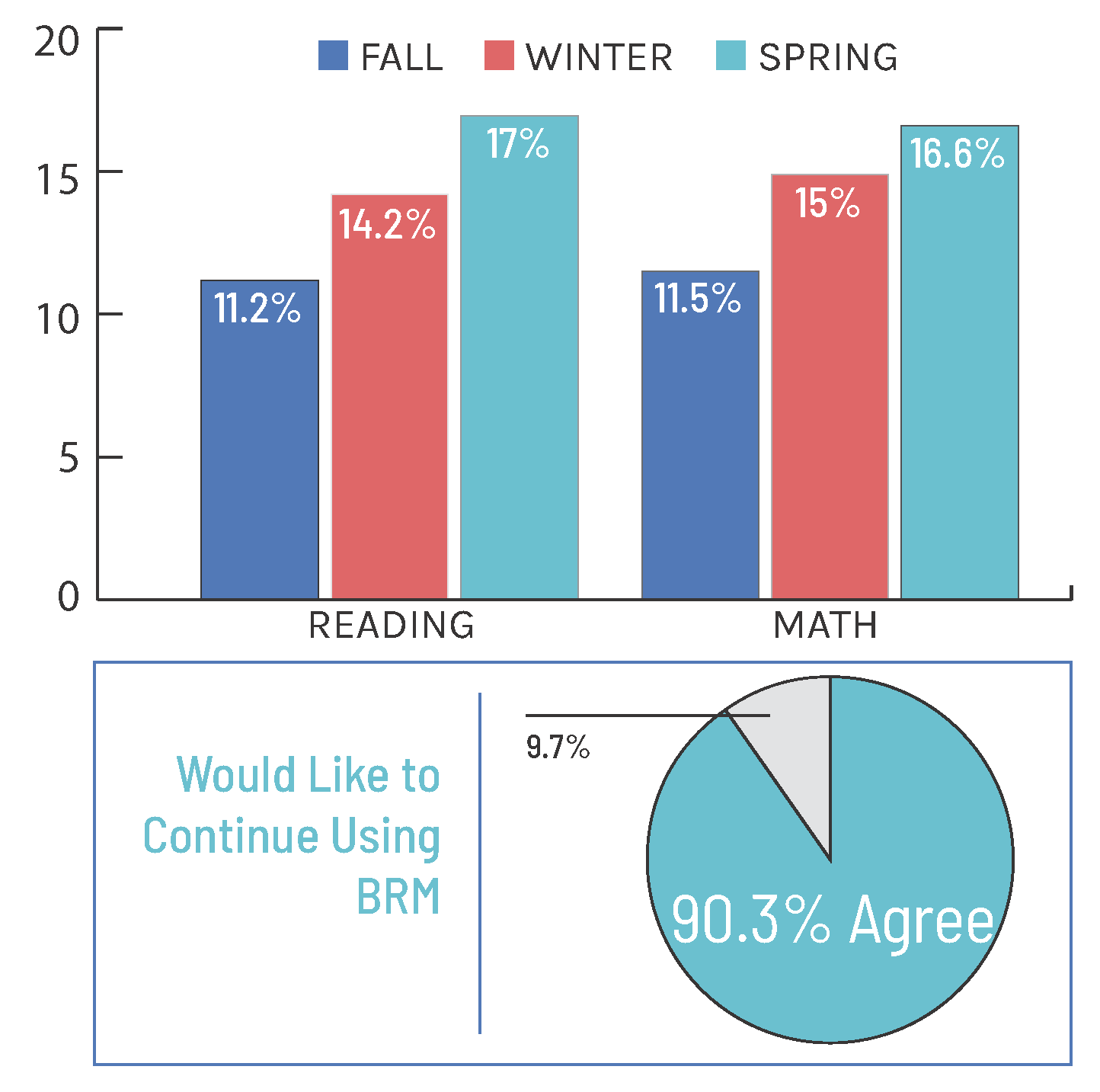 For more information on how the Branching Minds platform can specifically support your district initiatives, request a demo below.
Request a demo