Webinar: Using SEL Programs and Assessments within an MTSS Framework
Wednesday, September 23rd, 3 pm EST / 12 pm PST
Presented by Sanford Harmony & Branching Minds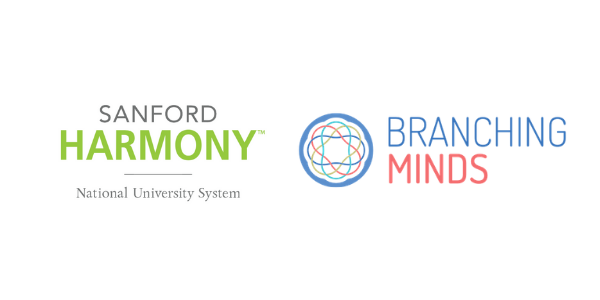 Social-emotional learning (SEL) is essential for both students and teachers as they transition back to school this fall. Understanding students' social-emotional needs and how to effectively address them is also a critical component of an MTSS model.
This webinar will demonstrate how educators can integrate SEL assessments and interventions within their existing MTSS practices with specific spotlights on:
Sanford Harmony, a free online SEL curriculum with evidence-based lessons and activities that can be delivered in-person or remotely, offers a new Virtual Instruction Toolkit that helps teachers support students' SEL needs throughout hybrid or distance learning; and

Branching Minds, a platform that supports the planning, implementation and documentation of SEL, provides educators with a newly integrated social-emotional check-in assessment and recommendations for evidence-based interventions aligned to individual students' SEL needs.
Thank you for your interest!
Registration has closed! We will publish the recording shortly.
ABOUT THE PRESENTERS
Dr. Essie Sutton:
Dr. Essie Sutton is an Applied Developmental Psychologist and the Director of Learning Science at Branching Minds. Her work brings together the fields of Child Development and Education Psychology to improve learning and development for all students. Dr. Sutton is responsible for studying the impacts of the Branching Minds on students' academic, behavioral, and social-emotional outcomes. She also leverages MTSS research and best practices to develop and improve the Branching Minds platform.
Shannon Smith:
Shannon Smith has been a lifelong educator and currently works as the Western Regional Manager at Sanford Harmony. She began her career as a high school educator at Brophy College Preparatory where she created immersion experiences for students to provide opportunities for students to empathize with others and provide cultural experiences. Her work transitioned to Montessori education where she taught 4th - 6th grade students for 14 years. Education of the whole child and Restorative Justice were paramount in her community. Shannon began her work at Sanford Harmony as an Ambassador where she had the opportunity to encourage and train educators to build healthy classroom communities through relationship building. She is currently the Western Regional Manager at Sanford Harmony. She graduated from Santa Clara University with a BA in Communication. Her work is based around bringing SEL practices and training to school districts and organizations nationwide.
Meghan Bender:
Meghan Bender has been in education for almost thirty years. She currently works as an Implementation Specialist and trainer for Sanford Harmony. Meghan began her career as a Kindergarten – first grade teacher in LAUSD and has taught all grade levels up to seventh grade. It was in the last ten years of teaching middle school that Meghan really began to put her SEL skills to use and see the need more and more for it. She created a Jr. High program for the students to help empathize with one another and be mentors for each other called "Hearts and Souls". Meghan began her work with Sanford Harmony three years ago and has had the opportunity to train teachers and staff all over the country helping to build strong and positive classroom communities. She graduated from Loyola Marymount University with a BA in Liberal Arts and a Masters in Child and Adolescent Literacy.