A Multi-Tiered System of Supports (MTSS) requires continuous data analysis, access to intervention planning and strategies, collaboration, and task tracking.
An RTI/MTSS Management Software can help streamline this process and increase the efficiency of your district's MTSS work. In this webinar, the Branching Minds' product team will be demonstrating how the Branching Minds' MTSS platform can support your district's MTSS practice by decreasing inefficiencies and increasing data transparencies. While this webinar will target district and school leaders, educators interested in learning about Branching Minds and MTSS technology are also encouraged to join.
In this webinar, participants will learn:
How the Branching Minds platform is structured to support MTSS

How districts can customize the platform to meet their needs

How an MTSS platform can increase equity and decrease inefficiencies in your MTSS practice
About the presenters:

Maya Gat
Maya is the Co-Founder and Chief Executive Officer of Branching Minds, where she focuses on building partnerships with districts and product design. She has spent 17 years working with children, youth, and adults as an educator in various capacities both inside and outside of the school system. She has previously taught young children ages 2-3, and students in grades 2-4 in New York City. Maya has also taught English and Mathematics internationally to children, teenagers, and adults in Istanbul, Turkey, and has written math curriculum in Jerusalem, Israel. She led youth advocacy groups in Pennsylvania and directed after-school programs in California, Florida, and New York. She has also tutored students with a broad range of learning needs, from kindergarteners to college students. Ms. Gat received her M.S. in Childhood and Early Childhood Education from Sarah Lawrence College. She also holds a B.A. in Urban Studies and Fine Arts from the University of Pennsylvania.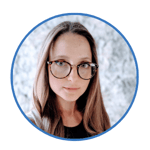 Emily-Rose Barry:
Ms. Barry is Director of Product for Branching Minds. She has worked in Education Technology in roles overseeing Product and Customer Success for the past ten years. Before joining the world of agile software development, she taught reading and writing at every level from early childhood to college, administered special programs for an adult literacy nonprofit, and published short fiction and poetry as a freelance writer. She is a co-founder of ProductTank Buffalo, a local community for networking and professional development.