About the presenters:
Karen Castle: Karen is Executive Director of Professional Learning at Branching Minds, where she leads a team of education consultants to provide guidance and support to schools and districts, as they implement Branching Minds and improve their MTSS practice. Prior to Branching Minds, Karen spent 12 years building a national professional development program for Amplify Education, a leading company in the education technology space. Prior to her work in the edtech space, Karen served as curriculum director, principal, and teacher for several school districts in the North Texas area for 23 years. Karen holds an M.Ed. from the University of North Texas and a Superintendent's Certification from the University of Texas at Arlington.
Simma Reingold: Simma supports districts, municipalities and states to creatively explore how we can open access to high-quality, engaging learning experiences for all students. Highlights of her work over the past few years include assisting district leadership teams to procure standards-aligned core curriculum, build digital ecosystems to seamlessly integrate student data, and develop student-centered learning models to guide learning and teaching transformation. She has shared her expertise as a technical advisor to the Gates Foundation, presenter at iNACOL and Learning Forward Conferences, as well as being a contributor to a variety of education publications. Prior to Thru, Simma was a Managing Partner at Education Elements and a Director at Gartner, Inc focused exclusively on building relationships and managing projects in K-12 Education.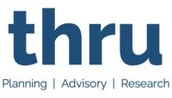 We are a team of insightful problem solvers that successfully guide district leaders
thru
uncharted territory. Over the past decade we have worked with districts big and small, rural and urban, helping them solve their biggest challenges. Simply put, we help education leaders do great things for their students, and we have a track record to prove it.