Studying Success in MTSS Implementation and Academic Outcomes During the Pandemic Years: Four School District Case Studies
Following the beginning of the COVID-19 pandemic in 2020, schools faced several challenges as they dealt with the transition to remote learning as well as the trauma, increased isolation, and learning losses experienced by students. We identified four district partners who were eager to improve their Multi-Tiered System of Supports (MTSS) practice in order to better support their students during this difficult time. Our team was interested in understanding if districts were able to implement the core components of a successful MTSS practice during the pandemic years and if their use of the Branching Minds platform was associated with growth in student achievement.
The following case study highlights how Arlington Heights School District 25 leveraged the BRM platform to identify students needing additional support, use data to guide decision-making and problem-solving, and develop targeted intervention plans using evidence-based interventions and supports. The results also show significant gains in Reading and Math performance for students supported with intervention plans through the BRM platform. Below we discuss Arlington Heights School District's successes and plans for further developing their MTSS practice. (The other case studies are linked below.)
Introduction and Implementation
Arlington Heights School District 25 (SD25) started working with BRM in the fall of 2020 with the goal of developing a holistic MTSS approach that was focused on supporting students across different levels of need. The district wanted a platform that would give them insight into their practice districtwide as well as what was going on at the student level. They also wanted to invest in a solution that teachers were comfortable using and allow them to find research-backed supports.
For the first year, platform implementation focused on specialists, interventionists, and other district and school leadership. To get everyone on board, they worked with BRM's professional services team to hold a launch session and instructional leader workshops. Schools completed the BRM Roots Report to get a better understanding of their current MTSS practice and which areas needed improvement.
Throughout the initial implementation year, the district saw the following indicators of success:
85%


of Managers (specialists, interventionists, and school administrators) engaged with the platform by entering or viewing student data

Progress monitoring data, that was collected through another platform by teachers, were synced with BRM, allowing teachers to see the data alongside intervention delivery


61%




of interventions and supports being used were evidence-based, including high-leverage strategies, such as Concrete Representational Abstract (CRA), Math Manipulatives, and Pre-teaching Concepts

The district used BRM to document


600+


MTSS student meetings and


60+


family communications
Results
In the fall of the 2021-2022 school year, SD25 began using the platform with increased fidelity. Scores on the NWEA MAP universal screening assessment, for reading and math, were used to identify tier levels of support for all elementary and middle school students. Intervention plans were developed on BRM for 176 students identified as needing support in reading, and 147 students identified as needing support in math.
Preliminary data analyses from the fall semester showed a positive trend in student growth in their performance on the NWEA MAP math assessment for students who were assigned an intervention on BRM (F(1) = 2.57, p = .11, η2 = .01). On average, students supported through the BRM platform for math had a growth percentile of 59, while students with similar Math needs who did not have an intervention assigned had an average growth percentile of 51.
Conclusion and Next Steps
The findings from this study demonstrate the successful preliminary outcomes associated with the implementation of the BRM platform. During the first year of implementation, Arlington Heights improved its MTSS practice by using student data to drive decision-making as well as high-quality assessments and interventions to support struggling students. During the second year, students who were supported through a documented intervention plan on the BRM platform had significant gains in their math performance, compared to students who did not have any documented support.
As the district moves forward with the platform, they are planning to get more teachers on board and use it more consistently. They have also begun using the DESSA assessment system to universally assess students' social-emotional competencies through the BRM platform. Their next step is to start building out SEL & behavioral health intervention plans on BRM in order to get an even more holistic perspective of students and their MTSS practice.
---

When deciding on which platform would be the best partner for CMS, our team of teachers and administrators found Branching Minds to be best-in-class - the most user-friendly for teachers and the most powerful data-driven solution for administrators.
— Dr. Frank Barnes Chief Accountability Officer at Charlotte-Mecklenburg Schools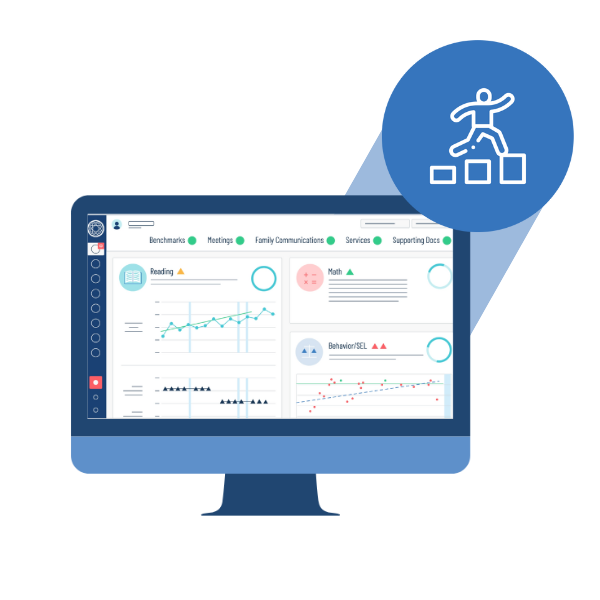 Make MTSS Easy, Efficient, and Effective With the Branching Minds Web Platform
Transform your district's MTSS solution with personalized intervention plans, powerful collaboration tools, and easy-to-understand reporting. We are more than just a platform, we are a system-level partner.
"
We needed a longitudinal system that could track students between multiple years so they didn't fall between the cracks. We also needed something that allowed for collaboration...Branching Minds rose above that pack.
"